Chicago is a city that thrives when communities come together and lift each other up. This creates a circle of impact that leads to individuals feeling empowered to be the best version of themselves, therefore paying it forward to those around them. Chicago Hearing Services empowers its patients by providing custom care, plans and technology so they can live their best life. Here in Chicago, a nonprofit that has empowered Chicago's youth to pursue their dreams and is close to Dr. Marie Vetter-Toalson's heart, is Big Shoulders Fund.
Big Shoulders Fund is an independent charitable organization that serves inner-city schools and provides a quality, values-based education for Chicago's children, thereby contributing to stronger communities. The organization was founded in 1986 by a group of Chicago's civic and business leaders who envisioned a future in which all children in Chicago would have access to rigorous, character building education that would prepare them for long-term academic achievement, career success, and civic leadership. Access to transformative learning and development experiences, a safe environment, mentorship, and support, helps students gain the confidence they need to become thoughtful citizens who are engaged in their communities and contribute to improved quality of life in Chicago.
For more than 30 years, Big Shoulders Fund has pursued a place at the forefront of citywide efforts to address the stubbornly persistent issue of education inequality by opening doors to opportunity for all children, especially for those from distressed communities and low-income backgrounds, regardless of religious or economic background. For more than three decades, the educational landscape in Chicago has undergone countless transitions and encountered formidable financial and political challenges.

With each new challenge, however, Big Shoulders Fund has evolved its approach to better respond to the needs of inner-city children, schools, and neighborhoods without departing from its mission and purpose. In determining its response to these shifts, Big Shoulders engages a holistic approach, guided by the following principles:
A rigorous education is critical to breaking the cycle of poverty
Every child deserves the opportunity to pursue a quality education
Exceptional leaders are necessary for exceptional schools
Successful schools require access to curricular and operational assistance that will support them through periods of change and beyond
Big Shoulders Fund's network of schools are anchors in their communities that promote safety and stability while contributing vibrancy
This comprehensive strategy affects change at the student, school, and systematic levels, addressing both the upstream factors that limit economic mobility of those in need and delivering evidence-based interventions that yield high-quality sustainable schools and vibrant communities. Collaboration with school administrators and staff, engagement of leaders from Chicago's corporate, civic, and philanthropic sectors, and generous investment of a robust community of supporters are at the heart of Big Shoulders Fund's success.
In fiscal year 2018, Big Shoulders raised nearly $25 million to provide scholarships, academic enrichment, leadership development, and operational capacity to its network of 75 schools and nearly 20,000students. The reach of its impact and the magnitude of its financial commitment to this population is peerless among local education nonprofits. To date, it has invested more than $350 million to advance the mission and vision of its founders and recently received a Four Star Charity Navigator rating for the 13th year in a row, something less than one percent of charities in the United States achieve.
Big Shoulders aligns robust programs and resources to position students in the forefront of learning to achieve academic growth and success in progressively more challenging educational and professional environments. Data demonstrates that this approach is moving the needle toward better outcomes. At two critical points of transitions– the eighth to ninth grade and high school to college–Big Shoulders scholars are thriving; 84 percent of eighth grade scholars matriculated to quality high school options and 94 percent of renewable high school scholars graduated (2018) with 80 percent of Big Shoulders High school graduates enrolling in college for the year following high school and 90 percent persisting on to a second year. Beyond college, alumni vote, donate, volunteer, pursue post-secondary and advanced degrees, and work at higher rates than their peers, twice the national average.
With 80 percent of alumni living and working in Chicago, Big Shoulders Fund's network of schools are not only providing quality education that leads to lifelong success they are creating the next generation of leaders who are making a difference in their own communities. With the incredible generosity of Big Shoulders Fund's supporters, like Dr. Vetter-Toalson, we have launched new scholarship programs, grown the number of educators supported in professional and leadership development programs, and significantly increased the capacity of Big Shoulders Fund's network of schools. This data-driven approach serves children, builds community, and ensures that these vibrant schools continue to thrive and provide a foundation for lifelong success for the next generation of problem solvers, innovators, and leaders.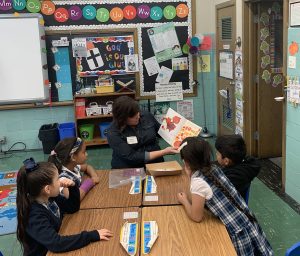 Big Shoulders Fund is lucky to have Dr. Vetter-Toalson as an engaged supporter for more than a decade.  Dr. Vetter-Toalson first got involved with Big Shoulders Fund alongside her sister Diana shortly after she received her Doctor of Audiology from The Ohio State University. She wanted to make a different and believed every child deserved a quality education.  Education had been a blessing in her life and she wanted to ensure children had access to one that would help set them on a trajectory of success for years to come.
She joined the Auxiliary Board and got involved in a variety of ways. Dr. Vetter-Toalson helped recruit members, keep people engaged, plan fundraising events, lead service days, and ensure that the Auxiliary Board fulfilled its mission of supporting Big Shoulders Fund through volunteerism, outreach, and fundraising. She even helped start the Big Shoulders Fund Racing Team. Dr. Vetter-Toalson saw the team as a great way to engage people in the mission, spread the word, and raise funds.  During her time on the Auxiliary Board, she helped grow its membership to more than 250 members and raise nearly $1M for the Auxiliary Board Scholarship Fund.
As she grew in her career, she wanted to continue her support of Big Shoulders Fund.  In 2016 she transitioned from the Auxiliary Board to the Chairmen's Advisory Council where she helped execute Big Shoulders Fund's marquee event Lend a Shoulder Day.  Dr. Vetter-Toalson helped demonstrate the impact of Big Shoulders Fund's work while recruiting new volunteers and support. She has also supported fundraising events and continued to volunteer in the schools, even providing consulting help to our academic team around auditory issues in students.  Dr. Vetter-Toalson has truly been a steadfast supporter of Big Shoulders Fund's mission, helping with her time, talent and treasure.
In honor of her service to Big Shoulders Fund and as she celebrates Chicago Hearing Services' 30th year in business, Dr. Vetter-Toalson will donate $30 to the Big Shoulders Fund Chairmen's Emergency Scholarship for every hearing aid fitting and sale in 2020.
The Chairmen's Emergency Scholarship assists families in crisis with tuition in elementary and high school. The scholarship is meant to help provide stability during a turbulent time for a child. In the past, it has helped families who have overcome excruciating circumstances such as the loss of a parent, loss of a home, and more.  The scholarship provides families with the opportunity to afford a quality education during a time of crisis.
With your help, the partnership of Chicago Hearing Services and Dr. Vetter-Toalson, Big Shoulders Fund can provide stability, hope, and opportunity for children. Together, we can be the Big Shoulders that carry the dreams of 20,000 children in 75 Chicago schools.